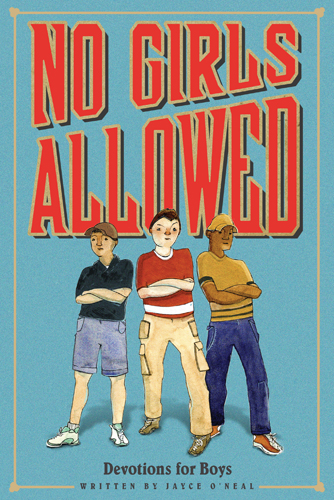 No Girls Allowed
by Jayce O'Neal is a devotional geared towards boys ages 8-12. An odd choice for this single mother of none, I know. However, I AM a teacher and an aunt of two boys within this age bracket.
I specifically requested this book for my nephews. As expected, the puzzles and secret codes were a hit (although the crosswords are probably a bit difficult for the younger boys since there is no answer bank and not all the questions are taken word-for-word from the text). I particularly like the basic format of having a scripture to start with, a little story or scenario and then ending with a short prayer. The puzzles and secret codes reinforce the theme and there's even an application section that gives the boys some suggestions for applying what they just read about to their lives at home and/or at school. After the application section are a few scriptures to give more biblical backing to the theme. I love that there are three quotes printed to the right of the scriptures at the end of each devotional selection; it makes my English major heart go pitter-patter! The quotes are taken from famous authors, historical figures, christian intellectuals, superhero movies, athletes, etc. I personally think it's good exposure for the kiddos.
Another thing I like about O'Neal's devotional is that he keeps it real. In a gentle way he explains that life is not always ice cream and action figures; bad things happen, even when you did nothing wrong. He encourages your child with the fact that God is still there and still loves him and will help him through the difficult times.
If you homeschool your children OR if they are particularly sheltered then this might not be the best fit for your child. O'Neal makes references to classroom scenarios that homeschool kids have never been exposed to so may not connect with. He also makes connections to movies and tv shows extremely sheltered kids may not be exposed to (SpongeBob, Batman, Star Trek, Hulk, Transformers, Starwars . . . just to name a few!). Not to say that these show or references are bad, just that they might pique your child's interest before you are ready to show them those particular things. But if you're willing to work through and discuss the book with your child then you both should be fine.
Overall, for content and ease of reading & understanding, I'll give this one a 4 out of 5 stars.
A complimentary copy of this book was provided to me by the Tyndale House Publishers in exchange for posting a review on my blog.